Mert's Mix
©2011 Stephen R Coffee
An appetizing Okie Rap honoring my stepmother, MaryEllen, aka "Mert", who never tires of feeding people. Thanks to Jim Clark for playing upright bass and bouzouki.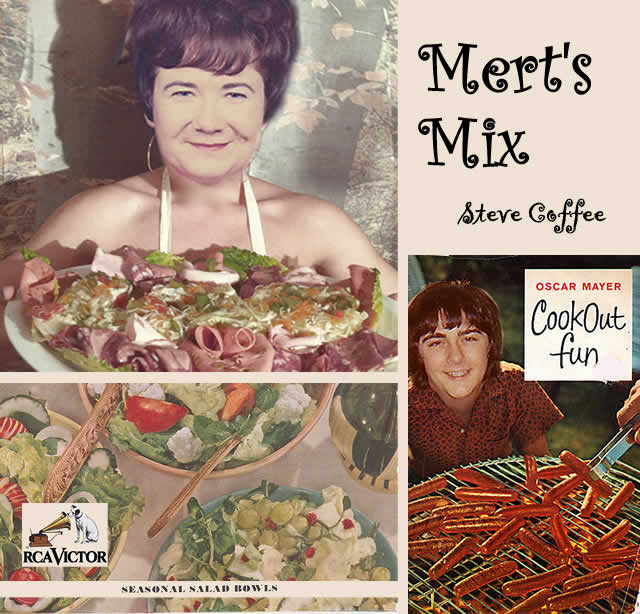 Chop some lettuce up in a bowl
little bit of mustard a little mayo
just enough onion to make 'em wonder
that's her spell and you're going under
a dose of chile habanero
to light your inner caballero
a pinch of sugar to take the heat
some vinegar to bring out the sweet
Mm MMM Mert's Mix
That's what she calls it, Mert's Mix
So find your seat and no misbehaving
don't want to see no pinkies waving
might have to start with the pecan pie
but I'll take my chicken chicken-fried
some watermelon, collard greens
99 ways to fix black eyed peas
so good I done come plum undone
that's alright just take some and leave some
MMM pass me some Mert's Mix
Summer weekends go to the lake
pray the lord my soul to take
don't let the skunks or the skeeters get ya
been a snake it'da already bit ya
you kids gonna get taken down a notch
don't believe me just hide and watch
chortle and snort, snort and chortle
love as tough as a snapping turtle
mm mMMm she's onto your tricks
Come to court you better have your game on
a parade of men has done been rained on
too old for elvis too young for frank
takes a real man to put gas in her tank
can you bait a hook can you reel em in?
can you check her oil and then check it again?
pitch a tent and sleep under the stars
shoot the moon, move Venus and Mars
MMM Mert's Mix
Mix it up now, stir it up
One of these days' me and Mert are 
gonna hit the road, don't matter where
step on the gas, slip in an 8-track
walking sticks hanging in the gun rack
and in the back some bread, boloney,
RC cola and, polski wyrobi
and for later on a bag of charcoal
some burger makings and a big heaping bowl
of--you guessed it--Mert's Mix
That's what I'm talking about
Gonna get my fix
Right here on Route 66
Mert's Mix
More songs for your listening pleasure:
Where are your people? From Rain Follows the Plow
A lonely voice from the borderlands
Close encounters with the past--and the inevitable future
Epic folk tale treatment of the Horizon disaster
Ruth finds beauty in a harsh environment. From Rain Follows the Plow
The distance between here and there
Those Ukraine girls make me scream and holler.
Regarding the War on Sanity
An appetizing Okie Rap
Song and video about visiting my dad's old home place.
a momentary detour on the way into town
for all you addicts
would you believe, bossa nova?
Still relevant, fifteen years later